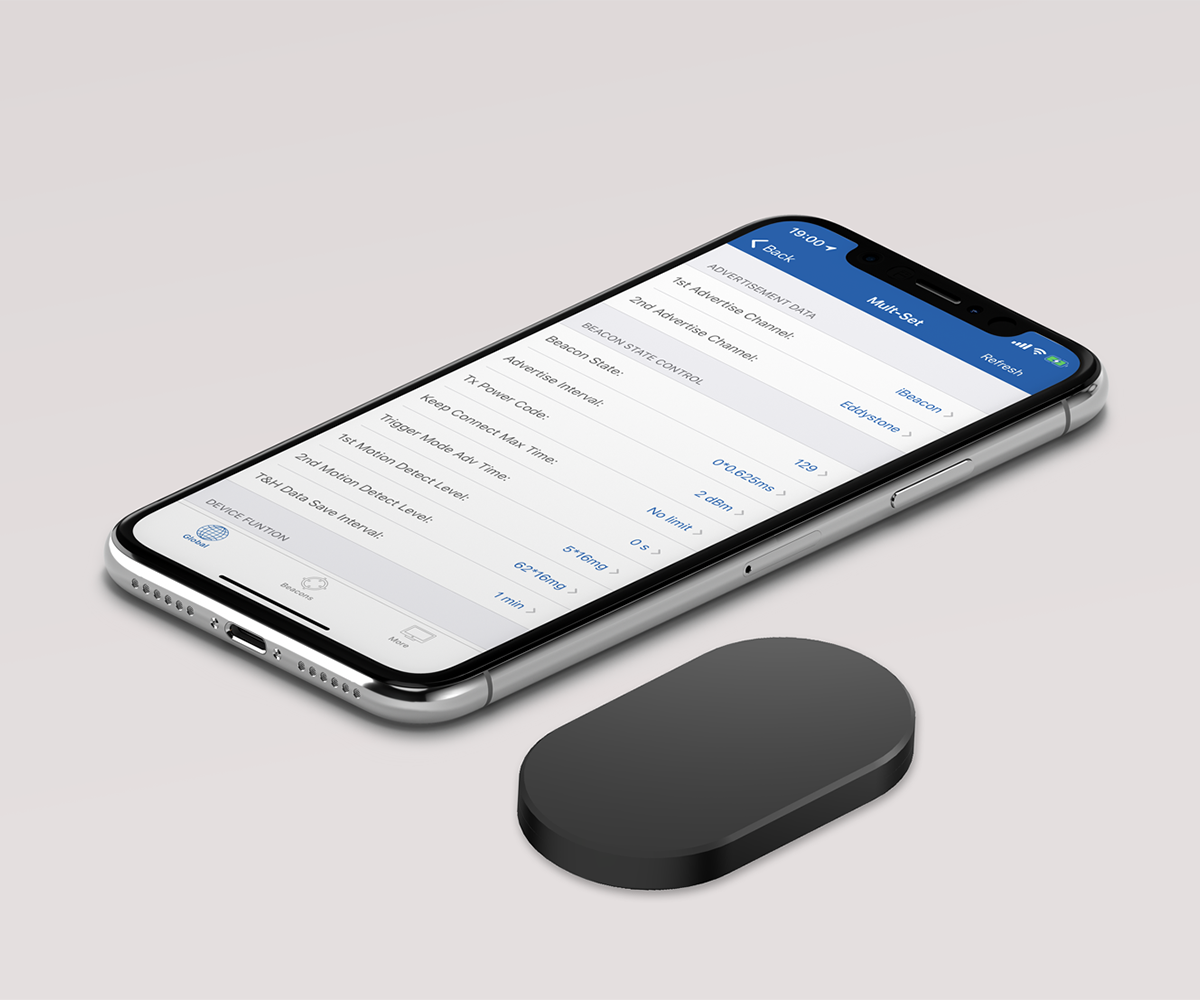 Ultra-Thin Beacon UL1
The UL1 is a high-performance product with the NRF52810 Bluetooth Low-Power Chip, which features higher sensitivity, lower power consumption and Bluetooth 5.0 protocol. The overall thickness of the UL1 product is only 4.8mm, and it is equipped with a motion sensor, buttons and light sensor inside. At the same time, it also contains a high-decibel buzzer, which can emit more than 90db decibels.
Main features:
Working in low-power mode
High-performance real-time clock, the error within the entire battery life cycle does not exceed 1 second.
In sleep mode at the factory to save more power
The customer activates automatically when receiving the goods without manual activation, saving current consumption on the way.
More convenient to activate the product by pressing button.
5 different broadcast data to choose from
Broadcast iBeacon and Eddystone data simultaneously
Broadcast two fully user-defined data simultaneously
Broadcast intervals can be adjusted from 100ms-10.24s, with 0.625ms as the unit.
The transmit power can be adjusted
Broadcast by Button, INT1, INT2 trigger
It has high-sensitivity motion detection and the intensity can be adjusted by itself.
Can get Mult-Info such as battery voltage from broadcast data in Non-Connectable Mode.
Ultra wide range transmission power: 4dBm— -40dBm.
Fast security OTA available
Compatible with BLE.
High performance and low power.
Built-in a coin battery (type: CR2032).
All hardware interface completely open. Developers do not need to rely on the SDK for development. The requirement of hardware interface can be customized (achieved a certain number).
UL1 Beacon has the appearance of mini and can also support IP67 waterproof, whether it is used outdoors or indoors, it has good performance.
UL1 Beacon is suitable for many occasions. For Beacon, it not only supports the current mainstream iBeacon and Eddystone protocols, but also supports the data format that we have defined. It can easily manage the device while having Beacon function. Whether it is positioning or item management, personnel control, asset management, Geo-Location is a very good choice. At the same time, the buttons on it can be applied to various application scenarios. When used for employee management, employees can tell the system where they are of course by pressing a button. And your own status.
Buy Online Link: Ultra-thin Ibeacon Sensor Ble Button Light Sensor Beacon With Nrf52810 - Buy Light Sensor,Light Sensor Beacon,Ble Button Product on Alibaba.com