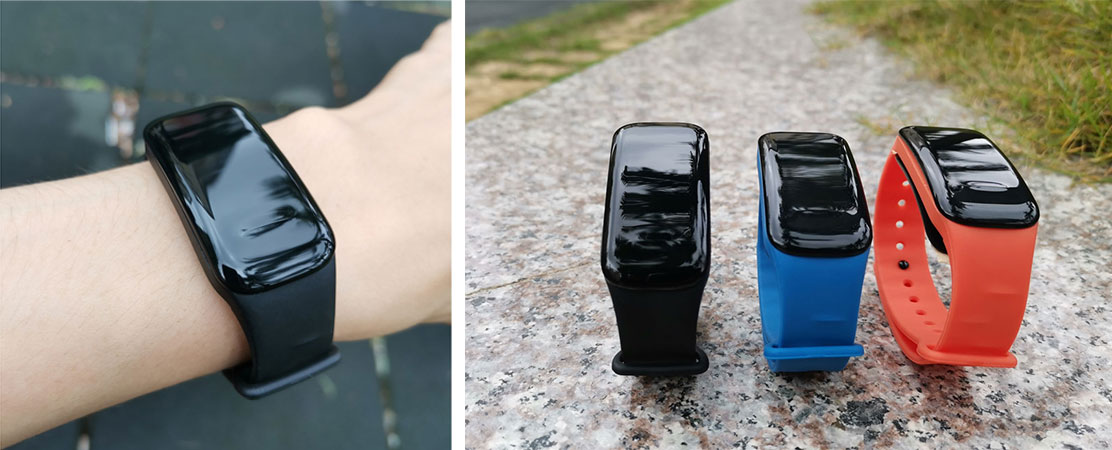 Bluetooth wristband beacon H1
H1 is a high-performance product that integrates accelerometer and vibrator with the NRF52832 Bluetooth Low-Power Chip, which features higher sensitivity, lower power consumption and Bluetooth 5.0 protocol.
This is a very comprehensive product. We define this product more as a software development kit, we hope that users will use this development kit to develop products belonging to their own application scenarios. Maybe you will not use all the functions on this product, but you can use this R&D kit to develop your own App.
At present, H1 is equipped with motion sensor, vibrator, LED and touch button.
With motion sensor, you can use it to detect motion. Moreover, it can set up two sensivities to detect two different motions.
With wristband shape, it makes H1 very easy to wear.
With rechargeable battery, it allows H1 to be used for a long time. Gyro sensor can be added if necessary.
Main features:
Working in low-power mode
Compatible with BLE.
In sleep mode at the factory to save more power
High performance and low power
More convenient to activate the product by pressing button.
5 different broadcast data to choose from Broadcast iBeacon and Eddystone data simultaneously
Broadcast two fully user-defined data simultaneously
Broadcast intervals can be adjusted
The transmit power can be adjusted
Can get information such as battery voltage from broadcast data
Accurate digital RSSI. Excellent link budget (up to 97dB).
Ultra wide range tx power: 4dBm - -40dBm.
Built-in a rechargeable battery
Trigger broadcast by Button
Trigger broadcast by Motion INT1
Trigger broadcast by Motion INT2
Dual channels for motion detection, support two adjustable thresholds, and detect movement of different intensities simultaneously in low-power mode
All hardware interface completely open. Developers do not need to rely on the SDK for development. The requirement of hardware interface can be customized (achieved a certain number)
OTA available
The rich and versatile functions are only designed to serve your business. If this product can not meet your needs, we also provide customers with customized firmware and hardware services, all for better service.